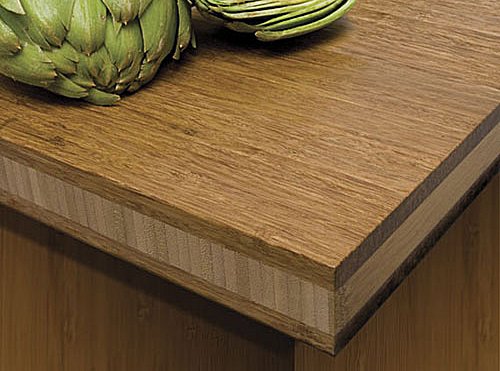 Alternative Kitchen Countertop Materials to Consider
Are you planning to give your kitchen counter a facelift? You might want to use eco-friendly alternatives.
Say kitchen countertops, and you'll probably think granite. It is, after all, the most popular and widely-used material for kitchen counters, and for good reasons. As a natural stone, no two granites are exactly alike, which means every surface it is used on would have 100% unique pattern, shade, and hue. Granite is also durable, rugged and beautiful.
If you want a green kitchen, you should use eco-friendly materials for countertops.
Bamboo
Bamboo is rapidly renewable, with a growth rate of 3 feet within a 24-hour period, depending on the variety. So what you planted today could be a tree in the next few months. It is also naturally harder and stronger than other hardwoods. If you use bamboo that is sourced locally, instead of exported, sustainability is ensured. A bamboo kitchen countertop also looks beautiful and contemporary.
Recycled glass tiles
There's no question of how eco-friendly glass is, considering that a higher percentage of it comes from recycled materials. Between ceramic and glass, the latter is also easier to process and consumes a lot less energy during production. What is even better is that it is attractive, durable and affordable. Recycled glass tiles also come in a wide range of colours. Time to let your creativity shine through your kitchen countertop.
Salvaged wood
Rather than let slabs of trees float on rivers and rot, use them on kitchen counters. You can do the same with wood that comes from demolished buildings or what is left from a construction project. If you can find salvaged wood with an amazing history, you'll have stories to tell with a unique and gorgeous kitchen counter. Talk about a conversation starter.
Paper Composite
This material has become an eco-friendly replacement for laminate. Although it still uses resin to make recycled paper waterproof and heat resistant, the resin doesn't contain formaldehyde that can off-gas and compromise your health, by reducing air quality in your home.  
Squak Mountain
This material is made of recycled paper and glass combined with low-carbon cement. It replicates the natural look and irregularities of stone, making it a great replacement for marble or granite. The only downside is that it is susceptible to etching and staining. But embrace the patina, and it will remain just as beautiful in your eyes.  
Bioglass
Bioglass is an example of recycled materials turned into one amazing product. It mimics the look of frosted glass with a translucent appearance. It's the best material to use for a modern kitchen countertop. Just make sure not to cut directly on top of it, as it is not knife friendly. All the more reason to get that amazing cutting board you saw at home depot, right?  
Stainless steel
Stainless steel is not only 100% recyclable, but it is also made of 60% recycled content. A bit confused? Well, it starts with 60% recycled content, resulting in a finished product that can be recycled over and over again. It takes the top spot for durability and extended useful life that you can overlook its susceptibility to watermarks and smudges.