About Kettle Valley
Where you want to live.
Read More
The Village of Kettle Valley, named "Best Community in Canada" by the Canadian Home Builders Association, is a community unlike any other – a village specifically designed to foster a unique, experience rich lifestyle. Our unwavering commitment to enhancing the lives of our residents is evident in the planning of each home, park, and neighbourhood. Stunning streetscapes, expansive parks and wildlife spaces, breathtaking views, a state of the art elementary school, and a beautiful full service Village Centre reflect a standard of excellence rarely found in today's residential developments. Everything you want… within walking distance. Come discover a sense of place, belonging and community you didn't think possible, one that heartens you to enrich your home, enhance your lifestyle, and truly better your life.
The Highlands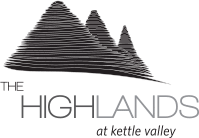 Imagine, building your luxurious dream home in a place that is surrounded by a diverse natural hillside landscape with flowing creeks and miles of green space to enjoy a multitude of outdoor activities. Imagine sitting outside under your covered veranda soaking in panoramic views of Okanagan Lake and the mountains beyond. Imagine sipping your favorite beverage while enjoying an Okanagan summer sunset with friends and family members. Picture yourself cooling off in your in ground pool, or barbecuing your favorite dishes eager to share your culinary delights while dining alongside your outdoor fireplace.
View Lots
---
Why Kettle Valley
Check out some of the great things Kettle Valley has nearby. Zoom in-and-out to see more!