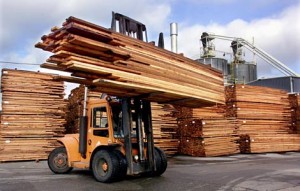 Lumber Prices On The Rise
We are now halfway through the second month of 2013 and lumber prices continue to rise in North America. The price increases are creating a number of questions that have builders and suppliers searching for answers. There are a few factors that are creating the spike in lumber cost, leaving many buyers wondering when the prices will level out.
The driving factor behind the price rise is the worldwide increase in demand. As we often see in world markets an increase in demand means one thing, prices are climbing to account for limited supply. As the old supply and demand curves battle it out on the grid, we know that the reasons for increased demand are due to these major factors and others:
– The U.S. housing market is on the road to recovery and a rapid increase in home starts has driven demand
– Hurricane Sandy created a need in the U.S.A for lumber to rebuild and repair the damages that left many buildings and homes in rough shape
– China continues to increase imported lumber and that trend shows no sign of stopping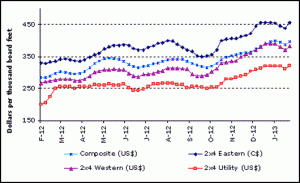 To reiterate the information presented above, the International Wood Market Groups produced a report with mention of "an overall tightening of the global timber supply base." The IWMG also "forecasts that it is mainly in North America where scarcities will be felt." the report goes on to note that "with China now importing more and more logs and lumber from North America and with U.S. demand now rebounding, some key structural constraints are expected to keep log and lumber supplies tight relative to demand growth, including:
• A collapse of the Russian logging sector in 2009 from the global financial crisis where log exports are now less than 40% of their 2007 level as they continue to decline in 2012.
• Changes to the Russian log export tax that continues to leave Russian log exports less available and expensive.
• After a "cooling-off" period in 2012, China's requirement to feed its growing wood deficit will see a return to steady demand growth for imported logs and lumber from North America and other sources.
• The mountain pine beetle epidemic in the B.C. Interior will, by the end of the decade, kill about 60% of all the pine trees in the BC Interior. This will permanently reduce Western SPF lumber production starting in about 2014 or 2015."
For additional information on the current lumber state visit: http://cfs.nrcan.gc.ca/pages/249
Food for thought: Canada remains the third largest softwood lumber producer in the world behind the U.S. and China respectively.
February 14th, 2013