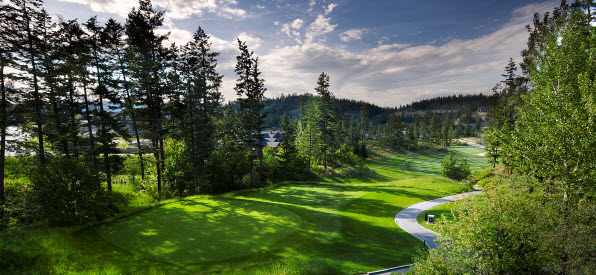 Rykon and Predator Ridge – A perfect match!
In over 17 years Rykon Construction has built an enviable reputation for building some of the Okanagan's finest homes – custom homes on individual lots and building dream homes within the most sought after developments in the region. Today we are proud to have been selected as a premier builder at Predator Ridge, Canada's finest Golf Resort.
In one of Predator Ridge's newest neighborhood, there's a perfect south-facing luxury homesite waiting for you high on the hill overlooking the tranquil Birdie Lake and the critically acclaimed Ridge Course. Birdie Lake Place is a unique opportunity, offering the only south-facing lots at Predator Ridge as well as the flexibility of building your dream home with lots of room to accommodate your perfect outdoor living space.  Just imagine high ceilings, lots of natural light, high-end fixtures and fittings, and large great rooms separated, perhaps, by a sliding glass wall that elegantly leads onto your spacious deck.  Most homesites even have room for a pool.  It's the true Okanagan lifestyle – indoor/outdoor living at its finest.  Rykon has created positively brilliant and original designs that adapt perfectly to this one of a kind setting.  For more information please contact Kim Barnstable 250-258-9914.
"Predator Ridge is excited to welcome Rykon as a preferred builder within our newest subdivision of Birdie Lake Place. We view Rykon as a very compatible fit as we look to ensure our product is meeting the demands of our buyers while committing to our long standing foundation of quality and service. We are confident that Rykon will be a valuable contributor to the next generation of growth at Predator Ridge"  Brad Pelletier, Vice President Wesbild Okanagan
About Predator Ridge
Located in Vernon, BC, Predator Ridge Resort is an exceptional place to vacation or to call home. The 1,200-acre award-winning development boasts 12 kilometers of natural wooded trails ideal for hiking and biking. Two critically-acclaimed golf courses are literally steps away – the legendary Predator Course, and SCORE Golf Magazine's 2010 'Best New Course in Canada', The Ridge Course. A full-service Clubhouse, a Golf Academy, a state-of-the-art fitness centre with a 25m indoor pool, outdoor pools, an AVEDA™ concept Salon & Spa, luxurious accommodation and a selection of events and activities offer guests a variety of options on the resort in addition to its convenient access to lakes, ski hills and wineries. Wesbild Holdings Ltd. owns and operates Predator Ridge Resort.
For more information, visit our Rykon office 'ON LOCATION' at Predator Ridge or call Kim Barnstable @ (250) 258-9914.