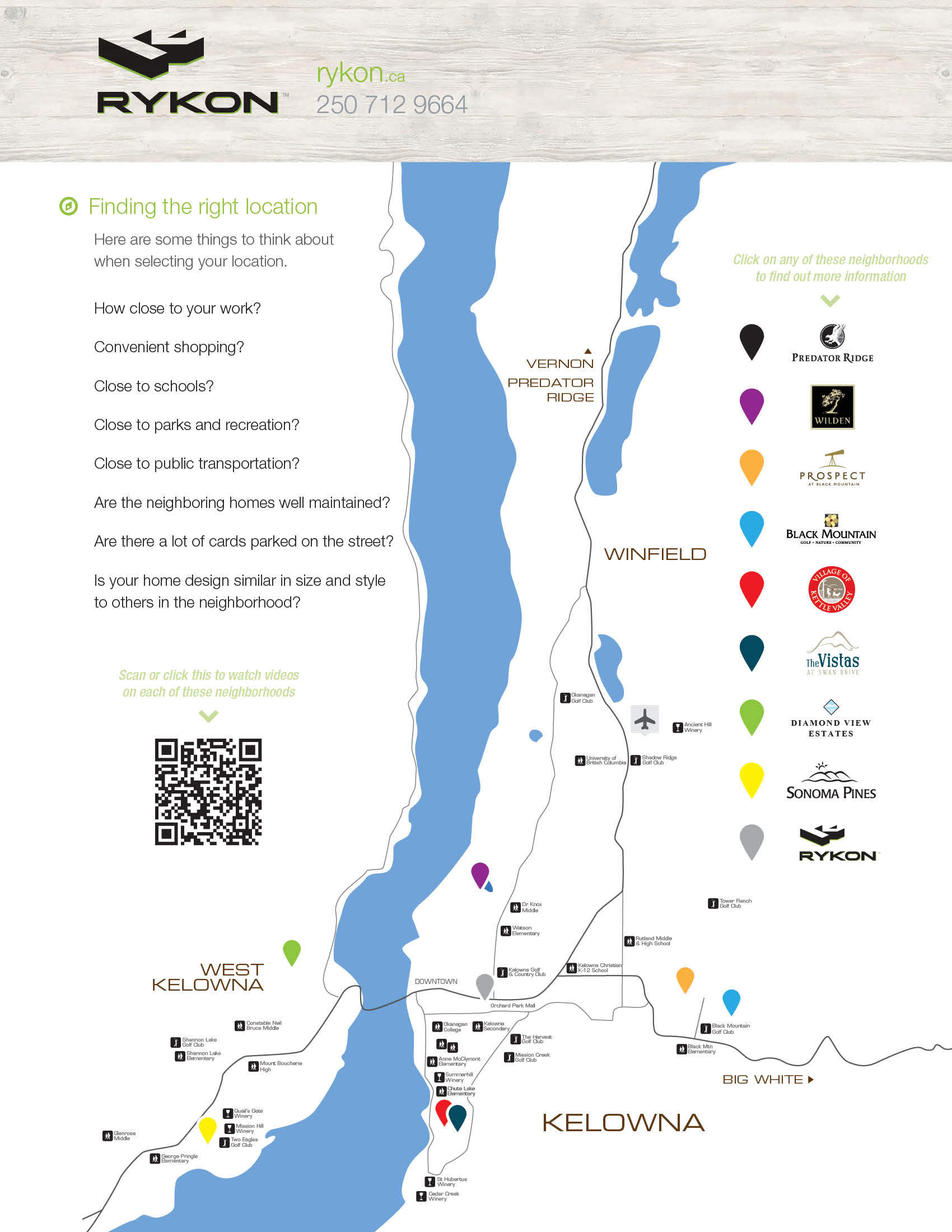 The optimism surrounding the building industry and the developments responsible for the buzz can be felt surrounding the city of Kelowna. As desirable new lot phases and developments continue to spring up, the outlook for prospective home builders for the remainder of 2014 and into the future is very bright. The properties coming on the market offer a wide variety of opportunity for potential suitors, including some incredible lake view lots and intriguing new neighborhoods, most of which surround the city.
Rykon is thrilled to be constructing homes in Kelowna's finest areas and the potential to build in new areas around the city brings new excitement. We want to make it known that we are pleased to look at any project in Kelowna and surrounding area and we pride ourselves in our ability to cover a large geographical area, crafting quality homes in a variety of areas. We have been honing our craft for 30 years now and we have no intent on slowing down in a city where we have become established as one of the finest custom home builders. Make sure to find out more about building with Rykon in one of the following developments:
Rykon is excited to begin construction a sexy modern design for excellent clients in Lakestone, starting very shortly. Check out the Lakestone site to see some of the areas most scenic lots with exceptional views. <http://www.lakestoneliving.com/>
The plans are in the works for a contemporary style spec home in the outstanding new phase 2 of Prospects. More information on their cool new phase can be found here: <http://www.prospectkelowna.com>
Estate lots with exceptional views in the Upper Mission is what the Vistas is all about. Check out some incredible lots available now at: <http://vistaskelowna.com/>
Construction has begun on a beautiful new custom home in The Creeks <http://www.thecreekskelowna.ca/>
Stay tuned for future news in other potential developments including:
McKinley Beach: <http://www.mckinleybeach.ca/>
Tallus Ridge: <http://tallusridge.com/>
As property in the Okanagan continues to hold its value we believe your investment is safe here as Kelowna and the valley continue to attract attention from other provinces and beyond.  Ask us today about starting a project in one of Kelowna's great developments.
October