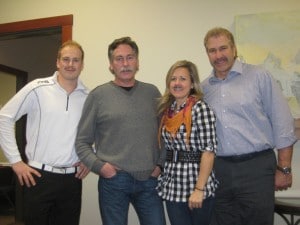 "Stache on Rykon" a Huge Success!
The last day of Movember is officially upon us bringing to an end some impressive stache growing around the Rykon office. The mustache's of course represent far more than a distinguished professional look, in fact they symbolize an effort to raise awareness about the often neglected topic of men's health.  After 30 days of growing, the "Mo Bro's" and "Mo Sistas" of Rykon have made a real difference raising over $1000 for men's health.
Led by Rykon's own, and the official Movember team Captain Neal Campbell, (featured in the picture) who set the bar for fund raising and stellar mustache growing.
"Just as individual follicles band together to form a mighty mustache  the Rykon team has worked as one, with great results. Not only was money raised as we joined a great community of MoBros and MoSistas, we looked darn good while we did it! Thank you to everyone who participated!" – Captain Neal Campbell
Keep an eye on our website for future fundraising initiatives and events that everyone is welcome to participate in. You can also follow us on facebook and twitter!