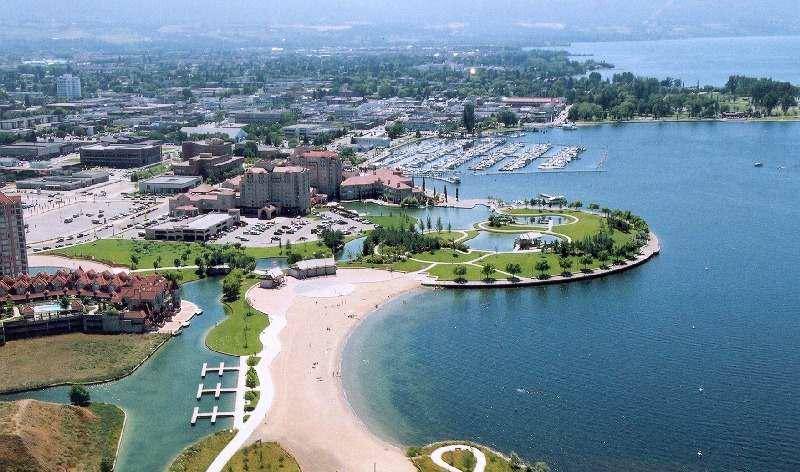 Vibrant Kelowna – Reasons to Live Here
Kelowna is a vibrant, lakeside community with big city attractions and a small town feel that appeals to the masses — from students, to seniors, and families setting down roots. Here are just a few of the reasons we enjoy living and building in Kelowna.
We're Open For Business
Kelowna has a vibrant entrepreneurial spirit that serves to nurture innovation and support the development of everything from startups to large, cutting-edge high tech firms. The city is well served by an international airport offering 66 daily nonstop flights to eight of the largest North American gateway airports.
World-Class Academic Institutions
Students no longer have to leave the Okanagan to pursue higher learning. UBC Okanagan offers an intimate learning experience at one of North America's largest public research and teaching institutions. Closer to downtown, Okanagan College's trades complex is undergoing a $33-million expansion to be completed in the Spring of 2016. Okanagan College offers an impressive assortment of trades training as well as diploma and university level courses.
The Weather
Every season is an enjoyable one in what is often described as a four-season playground. Our summers are hot and dry, while our winters are mild everywhere but the snow-capped mountains. Kelowna receives over 2,000 hours of sunshine each year with an average summer temperature of 30 degrees Celsius. Nearby Big White Mountain averages 750 cm of snow each year and has a lengthy season running from November to April.
The Wine
Kelowna is home to more than 30 wineries and a selection of breweries and distilleries offering tours and tastings. Major wine festivals take place throughout the year, offering new and seasoned oenophiles a chance to sample award-winning wines and local cuisine.
The Lake
Okanagan Lake is glorious to behold and a blast to explore by any means available — from boat to paddle board, kayak, canoe, or Jet Ski. Relax at one of dozens of public beaches or take a romantic stroll along the downtown boardwalk at Waterfront Park.
The Parks
Explore Kelowna parks and you'll be impressed with the variety of terrain this area has to offer, from the flat but fascinating Kettle Valley Railway to the short but challenging hike to Crawford Falls, where a refreshing swim near 40 foot falls awaits.
Recreation and Culture
Kelowna has a thriving arts and cultural scene and is a popular stop for top performers including comedians and musical groups. Adrenaline junkies will enjoy exploring the area's less docile attractions including Myra Canyon Adventure Park and zip lining in nearby Peachland and Oyama. Kelowna also offers world-class golf courses including Gallagher's Canyon, the Kelowna Golf and Country Club, and the Harvest Golf Club.
Sports
Whether you play or prefer to watch, Kelowna has something for everyone including a 6,000-seat multi-purpose facility that is home to the Rockets, Kelowna's Western Hockey League team. Enjoy sports year-round including cycling, running, soccer, hockey, tennis and more.
Well Built Communities by Rykon
Kelowna is a great place to live and an even better place to build your dream home. Contact Rykon today and explore the many options available to you and your family.