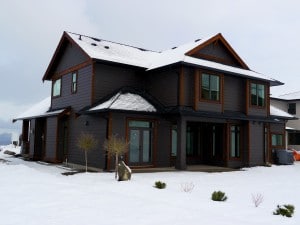 Winter Building in the Okanagan
Winter has finally arrived in the Okanagan valley as the cold threatens to set in and the snow begins to fall. Conditions look less favorable for the next couple of months for builders in Kelowna and the surrounding area as old man winter gets involved.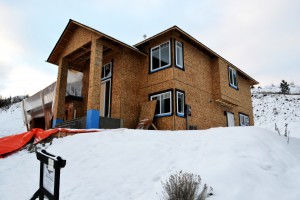 Despite the challenging conditions the building industry continues to carry momentum and a positive outlook into December and the start of 2014. Activity remains up from early 2013 levels, and here at Rykon it is no different.
We are often asked at Rykon Construction if the winter weather puts a damper on building conditions and if it wise to wait for spring to move ahead with building projects. Clients want to know if they can avoid additional cost, and extended timelines by halting plans until the weather bounces back and spring is in the air. All valid questions and logical theories in most Canadian provinces, but much less impact-full here in the Okanagan.
The winter challenges are quite minimal here in the Okanagan, and other than the days where it's a bit blustery or we get a dump of snow, we usually don't lose more than a handful of workdays due to poor conditions. This is certainly different than our neighboring provinces to the east, where things can come to a grinding halt because of extreme snow and cold. In terms of home timelines we at Rykon recommend adding at the very least a week or two too projects, if hammers are swinging and the build is happening through the November to March months. We also like to remind clients that building in the summer comes with its own unique challenges as family vacations and hot weather entice many away from the job sites and out to enjoy the beautiful Okanagan summers.
When it comes to concrete there is nothing left to chance. Rykon construction managers will wait for favorable conditions to pour concrete footings, foundation walls or floors. This is to avoid the impact of frost or having to heat concrete. There is often the ability to hold off and schedule flatwork (driveways, patios and sidewalks) during warmer months, eliminating cold weather concerns or unnecessary costs.
In terms of extra dollars spent we often see a small hike in costs to heat homes (referred to as temporary utilities) under construction during the colder months. Homes need to be heated in order to complete the drywall and taping. Carrying extra money in the budget will ensure there is enough allowance in place to cover a spike if the temperature dips down below zero. Other than that the prices look very favorable as trades and suppliers aim to stay busy in the months that are typically slower.
Building through the winter months has become regular practice for the Rykon team. Come in and talk to us today about your next project or gather information on winter building!
December